By Dr. Marian Fritzemeier, Ed.D. ©2016
Visiting a live nativity is a family tradition we did with our daughters when they were growing up. Now we enjoy following the same tradition with our two grandchildren who live in town.
On our recent visit to the live nativity at Modesto Free Methodist Church, the sheep triggered the most questions in between the narrator's story and characters moving about.
"Why do the sheep have to be here?" asks eight-year-old Parker. I suspect they're scaring him.
"The sheep are here because the shepherds were the first ones the angels told of Jesus' birth. After they heard the news, the shepherds brought their sheep with them to the manger."
Narrator: "And there were shepherds living out in the fields nearby, keeping watch over their flocks at night. An angel of the Lord appeared to them, and the glory of the Lord shone around them, and they were terrified." Luke 2:8-9 (NIV)
Next, six-year-old Khloe asks, "Are the sheep real?"
"Yes, they're real. They're holding really still right now. Oh look, one just moved his head."
Not satisfied she inquires, "Do they poop?"
"Yep, sheep poop," I answer matter of factly.
Narrator: "But the angel said to them, 'Do not be afraid. I bring you good news of great joy that will be for all the people. Today in the town of David a Savior has been born to you; he is Christ the Lord. This will be a sign to you: You will find a baby wrapped in cloths and lying in a manger'" (Luke 2:10-12, NIV).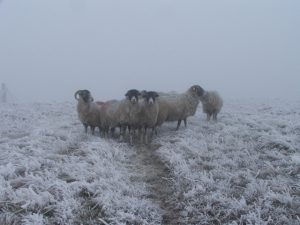 Parker looks down and says, "I feel sorry for the sheep. Are they cold?"
I assure him, "The sheep have lots of wool. See their thick wool? It keeps them warm."
"But what about their legs?"
Warm From the Outside In
What about their legs, I wonder. Upon looking at sheep photos, sheep do have some wool on their legs. A sheep owner answers a similar question from a farm stay visitor. "Sheep have their own natural source of insulation all over their bodies. Their wool keeps their body heat in and the cold out. The lanolin in their wool also prevents moisture from getting to their skin." 1
Warm From the Inside Out
I discover another way sheep stay warm, Veterinarian Dr. Mary Gessert says, "The process of rumination, with its fermentation of fibrous materials, generates a great deal of heat. The more forage a ruminant eats, the more heat its body produces." 2 She adds, "There is no need to house wooled sheep indoors during the cold winter months."
I'm equipped with a much better understanding of how sheep keep warm for another conversation, but my mind keeps wandering back to the shepherds.
What about the Smelly Shepherds?
I integrate information about the shepherds between the grandkids' sheep questions. "The shepherds are a really important part of the Christmas story. You know how some people make fun of the homeless because some of them smell? Well, the shepherds smelled too. They spent their time out in the fields with the sheep. They probably even got sheep poop on them. They didn't take a bath very often."
"Uckk. Smelly," the grandkids reply in unison.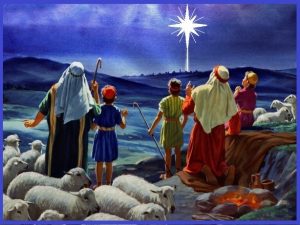 "People thought that the dirty shepherds were not worthy of God's love and a waste of time. Why didn't God tell the wealthy or educated first?"
God's Message
"Because God sees every person as important, even shepherds and the homeless. He wants everyone to have the opportunity to have a relationship with Jesus. Just like both of you have."
Narrator: " … they spread the word concerning what had been told them about this child, and all who heard it were amazed at what the shepherds said to them" (Luke 6:17b-18, NIV).
Here's a prayer that resonated with me from Proverbs 31 Ministries.
"Dear Lord, today I rejoice with the shepherds in the Good News of Jesus' birth. Help me to set aside those traditions that have become commonplace and explore the amazement of Jesus' birth. Thank You for sending a Savior for me. I want to spend my life sharing this news. In Jesus' Name, Amen." 3
What about you? What will you do with the angels' message to the shepherds? "A Savior has been born to you; he is Christ the Lord."
Sources:
How Can Sheep Survive Bitter Cold Weather by Kate. Farm Stay U.s. Posted February 26, 2015. http://www.farmstayus.com/blog/2015/2/26/how-can-sheep-survive-bitter-cold-weather. Accessed 12/21/2016.
"Winter Sheep Care" by Mary Gessert, DVM. Originally Published in the Shepherd Magazine. LittleHats.net. Sheepdogging for Newbies. http://www.littlehats.net/journeyman/sheep-articles-006.html Accessed 12/21/2016.
Why God Told Shepherds First by Glynnis Whitwer. Posted December 23, 2010. http://proverbs31.org/devotions/devo/why-god-told-shepherds-first/ Accessed 12/21/2016.
Images:
Cold_Sheep_-_geograph_org_uk_-_299528 [wiki media commons]
3-shepherds-and-the-anouncement-of-jesus-birth [www.mundopoesia.com]