What's your favorite Christmas story? The story of Christ's birth has always been mine. Once a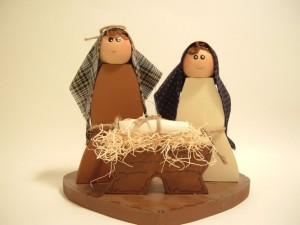 year, the heavy white bible was removed from the shelf, dusted off, and Luke chapter 2 was read.
"And there were shepherds living out in the fields nearby, keeping watch over their flocks at night. An angel of the Lord appeared to them, and the glory of the Lord shone around them, and they were terrified. But the angel said to them, "Do not be afraid. I bring you good news that will cause great joy for all the people. Today in the town of David a Savior has been born to you; he is the Messiah, the Lord. This will be a sign to you: You will find a baby wrapped in cloths and lying in a manger." 1
A very popular Christmas story is actually a poem. Clement Clarke Moore (1779-1863) wrote the poem Twas the Night Before Christmas in 1822. 2 I'm sure you'll recognize this one.
"Twas the night before Christmas, when all through the house

Not a creature was stirring, not even a mouse.

The stocking were hung were hung by the chimney with care,

In hopes that St. Nicholas soon would be there." 2
With so many children's Christmas books and new ones published every year, what stories do you want to read to your children? In our family the story of Christ's birth is the most important. Our daughters also knew other Christmas stories, but this was the primary focus.
If the celebration of Jesus' birth is important to you, you will appreciate the updated Christmas Books for Children. My latest version is available at http://fromdiaperstodiamonds.com/writing/resources/.
What about you? What's your favorite Christmas story to read to your children? Let my readers know.
Sources:
Luke 2: 8-12. https://www.biblegateway.com/passage.
http://www.carols.org.uk/twas_the_night_before_christmas.htm.
Image: nativity-scene-1426643 [freeimages.com]