Snuggled in a fuzzy blanket, your hand around a cup of hot chocolate, lying on the couch to watch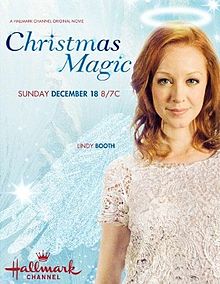 Christmas movies is a popular holiday tradition. Have you seen any good Christmas movies lately?
'Tis the season for Christmas movies. I've watched movies on Lifetime and Hallmark for weeks.
After viewing countless movies, I unscientifically identified six Christmas movie categories. Do you recognize these?
Hometown Love. A young person returns to her hometown and falls in love with a childhood sweetheart or a local she didn't notice when she was young.
Workaholic Changes. The workaholic who misses Christmas. Either circumstances or a unique person changes his or her view. Reminder: there's more to life than work.
Caring Communities. A community comes together to help others in need or save a beloved town or business.
Pain of Christmas Past. Ignoring Christmas is easier than facing the sadness of Christmas past. That is until an individual reminds them of wonderful Christmas memories and encourages them to celebrate Christmas once again.
Rescue Christmas. Helping Santa, Mrs. Claus, elves, and/or angels save Christmas or teach others about the magic of Christmas.
Eclectic. A hodge-podge of miscellaneous movies: blended family's first Christmas together; winning a contest becomes a love story; or falling for a Good Samaritan.
No matter what category the movies fit into, there's one theme. The magic of Christmas. The "magic" may be angels, Santa Claus, a miracle, a love story, healing relationships, or restoring the meaning of Christmas. During the movie, a character usually says something like, "Christmas is magical. Anything can happen at Christmas."
Chris Lite captures Christmas Hallmark movies in his article for The Week. "Hallmark gives us a parallel world, in which fate and goodness are looking out for you, and your best life is just around the corner, if you only just believe." 1
And believe we do. We believe in romance. We believe in love. We believe in family. We believe in hope. We believe in goodwill towards humanity. We believe in magical Christmases. These beliefs are reflected in countless movies. It's the reason millions of people, just like me, spend hours watching them with smiles on our faces and warmth in our hearts.
Huntington Post's guest blogger Cathy Sikorski shares why she's drawn to Hallmark's holiday staples. 2 Some of her reasons may be similar to yours. Romance, a connection to humanity, living an uncomplicated life, a chance to drink wine and shed a tear, see a special kiss, encourage others, not watch anything "bad," and feel Christmas all over again.
Sikorski adds, "I wanted to believe…even just for a minute…believe. You never leave a Hallmark movie without believing in Santa, Christmas miracles, love, mended and blended families, decisions with no regrets and that all is and can be right with the world. What could ever be wrong with that in just 90 minutes?" 1
What could be wrong with this Christmas magic? While millions of viewers cherish the "magic" of Christmas, the real magic of Christmas seems left out. Although some movies include families attending church, singing traditional Christmas carols, observing a nativity, or mention God or prayer, something's missing. The true meaning of Christmas is forgotten.
Over two thousand years ago, God sent his son, Jesus, as a gift to each of us. The real magic, actually the real miracle of Christmas is this greatest of gifts and with it the potential for new life. We just have to decide if we will accept God's gift or not.
As I watch these delightful and sometimes predictable movies and the magic they offer, it certainly touches my heart. But I must never forget to keep my focus on God's real gift, the real Christmas "magic" of a Holy baby, being born in a manger.
Here's the biblical account of the true magic of Christmas – Jesus' birth from the book of Luke, chapter 2. 3
 So Joseph also went up from the town of Nazareth in Galilee to Judea, to Bethlehem the town of David, because he belonged to the house and line of David. While they were there, the time came for the baby to be born, 7 and she gave birth to her firstborn, a son. She wrapped him in cloths and placed him in a manger, because there was no guest room available for them.

8 And there were shepherds living out in the fields nearby, keeping watch over their flocks at night. 9 An angel of the Lord appeared to them, and the glory of the Lord shone around them, and they were terrified. 10 But the angel said to them, "Do not be afraid. I bring you good news that will cause great joy for all the people. 11 Today in the town of David a Savior has been born to you; he is the Messiah, the Lord. 12 This will be a sign to you: You will find a baby wrapped in cloths and lying in a manger."

13 Suddenly a great company of the heavenly host appeared with the angel, praising God and saying,

14 "Glory to God in the highest heaven,
and on earth peace to those on whom his favor rests."

15 When the angels had left them and gone into heaven, the shepherds said to one another, "Let's go to Bethlehem and see this thing that has happened, which the Lord has told us about."

16 So they hurried off and found Mary and Joseph, and the baby, who was lying in the manger. 17 When they had seen him, they spread the word concerning what had been told them about this child, 18 and all who heard it were amazed at what the shepherds said to them. 19 But Mary treasured up all these things and pondered them in her heart. 20 The shepherds returned, glorifying and praising God for all the things they had heard and seen, which were just as they had been told."
Sources:
Chris Lites. The sheer brilliance of Hallmark's corny Christmas movies by. December 17, 2015. http://theweek.com/articles/591033/sheer-brilliance-hallmarks-corny-christmas-movies.
Cathy Sikorski, Humorist, Author, Lawyer. "11 Reasons to Watch Hallmark Christmas Movies." The Huffington Post, December 21, 2015. 3.   https://www.biblegateway.com/ Luke 2:4-20.
http://www.huffingtonpost.com/cathy-sikorski/11-reasons-to-watch-hallmark-christmas-movies_b_8851380.html.
Image. Christmasmagic [Google Images] Hallmark Original Movie, 2011.