I started the day off pretty slow, so I went back to bed and slept. As a three-day experienced Uber user, I took Uber to the WNC Nature Center. One review called it a "poor man's zoo," but I knew I'd enjoy it. Animals, outdoors, and photography. What's not to like?
They had so many amazing children's interactive activities, such as a music center, building, and water. I took many photos for examples. I've always wanted to design a children's museum. A nature one would be way cool.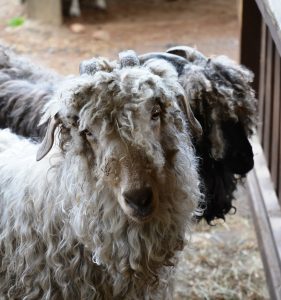 I enjoyed the river otters, the wolves, and red fox. I was really focused on eyes today. It started with the sheep's tilted head and the way he looked at me.
I was going back and forth in my mind about whether or not to visit the North Carolina Arboretum. I thought, "If you can't make a decision, you are too tired." As I took Uber back to the hotel, it started really raining again. The weather report said no rain today. I hope this is the last day of rain.
I'm happy with my decision, which doesn't always happen. I relaxed and watched TV, did laundry, iced my back, took a warm bath to soak my aching shins, and ate dinner. I'm creating a "Naturalist" definition in my mixed media journal.
In less than 24 hours, the Blue Ridge Mountain Christian Writers Conference begins. I can't wait.
"Lord, please help my focus. Help me make effective decisions on which workshops to attend. Provide open doors to my writing and learning."