You want your kids to have every educational advantage.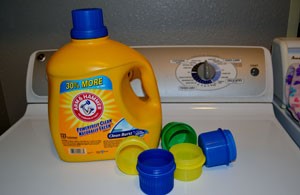 You buy the best educational toys and games available. If these toys cost more than your budget allows, sometimes doting grandparents or other family members purchase them as gifts. But what if some educational toys your kids will enjoy don't cost any money?
When my girls were young, I had to be frugal. As a grandparent, I don't have to be frugal. But I choose to be. Why? There are endless things to spend money on. Every time I save money on one thing, I have money left to spend on something else, especially something fun.
Hence the instructions in our home, "Don't throw away that laundry detergent lid. Or the cat litter lid. Or the shaving crème lid. Or the hair product lid. Or any lid that can be removed and is not small enough to be a risk for toddlers to choke on. You'll be surprised how quickly you can collect large numbers of lids.
Yes, I'll admit my family often thinks my ideas are crazy. Maybe you've been accused of a few crazy moments too. But this idea is pure genius. Just ask my grandchildren. Children like objects that are different colors and shapes to look at and play with. My next blog will show you how to use your lid collection to teach kids math concepts, like sorting and classifying objects.
If you're a parent, grandparent, or know children, here are your new instructions. Say, "We have another item to recycle. The lids go in the dishwasher instead of the trash," (put them in the silverware holder). For many kids helping our environment is a worthy cause, even if this seems a little crazy. My grandchildren started taking off lids before the containers were empty. Note to self: Be very specific when giving children directions.
I admit my grandchildren's lid container is full. So I'm saving lids for a speaking engagement give-away. But since there will be only one winner, you don't want to miss out. Start your lid collection today.
After the lids are washed, put them in a plastic or paper bag until you have 50 or more lids. I actually added a cost to my "free lids" but a shoe box will work just as well. If you purchase a new pair of shoes to get a "free" empty shoe box, let me know how you explain that!
So stop. "Don't throw away that laundry detergent lid! Put it in the dishwasher." If anyone questions your sanity simply reply, "I'm recycling, creating educational activities for children, and saving money." Who can argue with that?