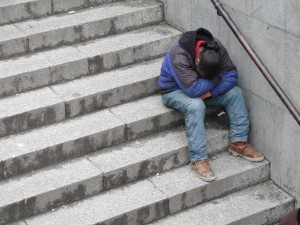 Drifter.
Derelict.
Transient.
Vagrant.
Hobo.
Beggar.
Gutter punk.
Pan handler.
Maybe you've heard them called by these names. Even worse names are too crude to post.
But one 13-year-old young man in Stanislaus County calls them, "The less fortunate." I like his description for the homeless way better than any of the endless names I located at three different online dictionaries.
The words used by friends to describe this young man include intelligent, kind, caring, he listens, you can trust him and rely on him. Sounds like a much more positive list than the first one. I had the privilege of interviewing Jake Berlin, a 7th grader at Glick Middle School a week before his 13th birthday. Jake indeed captures these descriptions but what captured me was his compassion for the less fortunate.
When Jake was only ten years-old his heart stirred. His family was visiting San Francisco for an outing. At the end of a fun day, they rushed down stairs to catch the BART train. Jake called out, "Mom, we need to go back. We need to help him." He begs, "Please, we've got to go back."
Not his parents' proudest moment, but they were in a rush and didn't want to miss the train. Before you judge them too harshly, haven't you been in a hurry and missed an opportunity or two?
But Jake couldn't get the homeless man's words out of his mind. "You didn't have to give me anything. You could have just said hello." He thought about the man day and night.
His mother said, "Jake was absolutely heart-broken. The homeless man's words bothered him for weeks. He kept talking about the 'invisible people.'"
Unlike many of us who pass by a less fortunate person, then ten-year-old Jake decided to take action. His mom helped him start a summer activity focused on helping the homeless. Jake called it Project SGL – Show God's Love. He convinced family members to invest financially. Like many entrepreneurs, he launched Project SGL on a shoestring budget with about $80.00.
Jake had seed money, but at age ten, he couldn't drive. His family rallied together to assist Jake. His mom said, "This is way out of my comfort zone. I'd never go do this on my own. But how do you say no to your kid when he asks you for $5.00 to buy lunch for a less fortunate person."
Jake began gathering items he thought the homeless needed, mostly from dollar stores. He thinks about what they need during the various types of weather. He explains, "What they need now is warm clothes. In summer they'll need more cool water."
He continues. "At first I gave them small bibles because they take less room. But many of the homeless have poor sight and need a larger font."
I'm curious; did a 12-year-old really figure this out? I inquire, "What do you mean about their poor sight?"
Jake explains as if a medical expert. "Sometimes they have eye infections. Or they don't have glasses. They don't get to a doctor. So now I buy bibles with larger fonts."
While at a dollar store last week, I paused by the large size bibles. Jake needs these. If Jake can do all this, I can certainly help. I add five bibles to my shopping cart. During the interview, I also committed to Jake that I'd save all my travel samples for Project SGL.
Last May during the Blue Ridge Mountain Christian Writers Conference, I identified Jake as a terrific young man to write an article about for a children's magazine.
Eight months passed. Jake remained on my mind. I struggled with asking a young man to let me interview him for a potential article. I'm used to getting rejection letters from editors. But what will happen to Jake if editors reject his story?
I shared my concerns. "Jake, in case editors choose not to publish your story, it doesn't mean that your project is less important or that you're not doing enough. God has clearly given you a heart for the less fortunate. We'll pray that happens, but in the meantime can I post some stories on my web page and refer them to your web site?"
He smiles. Behind his grin, I hear him thinking, Cool. More people will hear more about helping the less fortunate.
Visit Jake's web site at https://www.facebook.com/Project-SGL-243953765799599/.
Image Source: homeless-1254833 [freeimages.com]