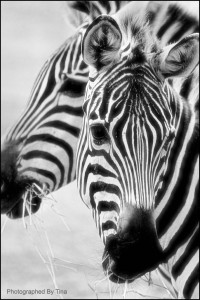 "We're looking for a zebra," explains the University of California, San Francisco (UCSF) neurologist in December 2007. After roaming from doctor to doctor, specialist to specialist, and more expensive and extensive medical tests than I want to remember, I'm referred to UCSF.

Something uncommon. "I've had five or six patients just like you," my neurologist explains. "Our neurology team can't actually give you a diagnosis, but we can treat the symptoms. You have something uncommon. In the medical community we refer to this as looking for a zebra. Zebras are unique; no two are alike," he adds.

"`Failure to diagnose' is the terminology used by doctors (and lawyers) to indicate a patient has a set of symptoms that have gone undiagnosed." (1) I leave yet another team of medical experts without a diagnosis.

Still a zebra. For four more years I trek to San Francisco for follow-up and hope for a diagnosis so my illness will no longer be classified as a zebra. Sadly, I'm still a zebra.

A to Z. Most children are familiar with zebras as they learn the alphabet. "Z is for Zebra," they recite. I don't know much more than children know, so I start learning about zebras. No one knows if a zebra's stripes are black with white stripes or white with black stripes.

Zebras are distinctive. God created each zebra with distinctive stripes, just like He created each human being uniquely. I photograph zebras at zoos and watch them diligently. I purchase zebra magnets, zebra post cards, and zebra paraphernalia. (But I can't locate one of my photos for this blog!)

I contemplate the doctor's words often. "No two are alike." I've always been different. I befriend social outcasts. I think and act outside the box. I color outside the lines. I march to my own drum beat.

If I was common. But for a few years I've longed to be just like everyone else. My logic: If my symptoms aren't so unusual, the doctors can determine the cause of my symptoms. I won't be looking for a zebra anymore. I know. It's not the kind of logic I used in my doctoral program, but for this situation, it works.

Until the day I discover I'm not a zebra anymore, but an orphan.

Source:

1. When You Can't Get a Diagnosis: Failure to Diagnose. Trisha Torrey. Updated November 25, 2014. patients.about.com/od/yourdiagnosis/a/failurediagnose.htm. Accessed December 1, 2014.