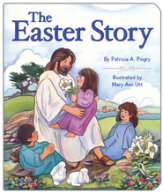 Easter is just around the corner. Last year I didn't update my Easter Books for Children for my resource page, so this year I covered two years. If you're looking for books about bunnies, Easter eggs, chicks, and egg hunts, you don't need any recommendations. These books are prolific. However, if you are looking for Easter books that tell the true Easter story from a Christian perspective, I can assist you.
Books for Little Ones
This spring I haven't seen any "religious" Easter books at places where I shop. You may need to order books online. I arranged the book list by year & then by ages, starting with our youngest readers, 2 – 4/5 years. The Easter Story (Candle Books) is now available in a board book (2015). This book for little ones begins with the entry into Jerusalem and ends with the Ascension.
Thomas Nelson published God Bless Our Easter in a board book, Kindle, and paperback (2014). This book features many baby animals with the focus that each blessing comes from God. The third book for this age group is a Veggie Tales Book, The Great Easter Egg Hunt (Candy Cane Press, 2014). Junior finds an empty Easter egg and learns about the empty tomb and Jesus' resurrection.
Books for 4 – 8 Years
There are a number of books in the 4 – 8 year age range. The Sparkle Egg story captured my attention (Ideals Children's Books, 2014). This hardcover book illustrates God's grace in a way children can understand. The 32 page hardcover book, The First Easter, tells the story of the last week of Jesus' life (Lion Hudson, 2014). The Legend of the Easter Egg: The Inspirational Story of a Favorite Easter Tradition got a facelift in 2014 with all new illustrations (Zonderkidz).
Food Allergies?
I included a book that does not have any true Easter meaning but may be helpful to families whose children have food allergies. Dear Easter Bunny, I am Allergic to…: features Bonnie the Easter Bunny who visits bunnies with food allergies (2015). She reads a letter at each house to determine what kinds of treats to leave.
Armenian Culture
Mariam's Easter Parade is a hardcover picture book set in the 1900's about how people of the Armenian culture celebrate Easter (Pomegranate Publishing, 2015). I'm interested in the cultural aspects of this book including colorful costumes, parades, friends, and food. The final page explains how to decorate eggs the Armenian way. It is unclear how much of the book focuses on the true meaning of Easter.
Free Resource
The 2014 & 2015 Easter Books for Children features 16 books. Unfortunately, not all books have age recommendations. This resource list is available on my web page. Go to the "Writing" tab; then click on Resources. You can also access Children's Easter Books compiled  2013.  Let me know how you like these books. Happy Easter to each one of you.