I find the house number through the rain splashing on my windshield. It's the one with seven cars parked in the driveway overflowing onto the street.
Holding my umbrella in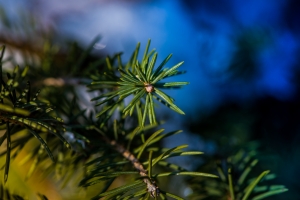 one hand and a rumpled wet paper with the family's name written in pencil that's barely readable, I press the doorbell. I'm surprised it works. I can see through the hole where the dead bolt should be. I wonder how much cold air goes through there.
A beautiful young lady opens the door. I'm drawn to her meticulous hair pinned around her head. Her radiant smile warms my face on this dreary day. Her dark brown eyes with long eyelashes look down towards her tiny newborn boy swaddled and wrapped in her arms.
You are so beautiful, I think. "Merry Christmas. I'm Marian."
What was I expecting? I guess a stressed woman with a toddler hanging on her leg and a baby screaming.
"This is so nice of you. Come in."
"Your baby is so precious. How old is he?"
"Two and a half weeks," she gleams.
"I'll start bringing in the food."
There's no one to help carry in the extremely heavy food box assembled by a nearby local church and staff from my husband's office. I transfer cans into plastic bags and carry what I can. I give up on the umbrella and choose my coat's hood instead. After I place the third load of food on the floor just inside the front door, I begin to cry.
What was I so concerned about? That I'd asked others to help and there wouldn't be a true need?
I briefly recall the day I met this teen's mother at the county library. Her mom had recently got off drugs and wanted a Christmas for her daughter, two-year-old grand-daughter and new grandson. But she had no resources. She asked me for help.
"Lord, how could I doubt you? I'm so sorry," I confess. "You chose me as your messenger and a group of people who love You responded to this need."
She won't notice my tears mixed with rain, I think. Actually, I don't care if she does. I'm humbled. God is using me in a life of a family who are no longer strangers.
"There's still more?"
I hand her bags of clothes from my mom, a recent widow. I tell her briefly about the people behind the gifts. "I'm so happy we can help." I notice the two-year old fast asleep in the dark room and the small Christmas tree with five ornaments. "When my girls were little, we were the ones the church gave food baskets to at Thanksgiving and Christmas."
"Really?"
"I'm thankful I can share with others. Would you mind if I pray with you?" Realizing that might sound strange to her, I quickly add, "Or not. I don't need to pray if you'd rather me not."
Her smile broadens, "I'd like that."
My prayer is short. I'm choked up. "Can I give you a hug?"
Driving home, tears flow freely like the rain on my windshield. "Lord, I am so blessed. Thanks that You have always provided for me and my family. I'm grateful to fulfill a 'Prayer and a Request at the Library.'"
This story was originally titled Prayer & Request at the Library: The Rest of the Story and was published December 26, 2014.
Image Source: christmas-tree-1434515-m-Stock-Photo-By-teslacoils-freeimages_phtml.jpg