Even people, who don't believe in God, often blame Him when they experience tragedy and loss. Many beg God for answers during extremely difficult circumstances, like heartbreak and catastrophes. During these times both believers and non-believers question, if God is real, why does He cause bad things to happen to good people? If God is so powerful, why doesn't He stop it from happening? If God loves me, he wouldn't have taken my child away.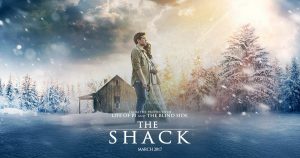 This is the situation in which we find Mack Phillips, husband and father of three, in the recent movie, The Shack. He's begging God for answers to life circumstances he can't comprehend nor believe.
The Camping Trip
During a camping trip with his three children, Kate, Josh and Missy, Mack experiences a crisis with one child that leads to a tragedy with another child while his wife, Nan, remains at home.
The Crisis
Mack and his three kids arrive at a beautiful lake and set up camp. Kate and Josh canoe on the lake while Missy colors at a campsite table. When Mack hears a scream and sees the canoe capsized, he runs to rescue his son from underneath the canoe. Mack is beyond relieved when he resuscitates his son. It seems that everyone camping nearby is watching the incident. A predator uses this opportunity to kidnap Missy.
Where's Missy?
When Mack, Kate and Josh return from this near tragedy, they can't find Missy. After learning she's not with friends, forest rangers and police start searching for her. Not long into the movie, we discover other girls just like Missy have been murdered. Upon finding Missy's bloody clothes in the shack, it is assumed Missy has been tragically killed.
The Invitation Arrives
This event triggers Mack's decline into depression. By winter time Mack is suicidal and challenging his faith in God. Why God? Why did my Missy have to die? He asks questions that seemingly won't be answered. That's when Mack receives an unmarked letter in his mailbox from "Papa" to join Him at the shack. Papa is Nan's name for God.
At the shack, Mack meets the triune God: Papa who is God, Jesus, and Sarayu, the Holy Spirit. Many Christians get stuck at this point because God is portrayed as a black woman. Interestingly enough, many non-believers seem to hear the movie's messages loud and clear.
God's Character
God cares deeply for each person. He often says, "I'm especially fond of you." God's love is never ending and unconditional. He knows the future. He longs to reconcile with every person. He offers forgiveness and shows us how to forgive others. We can choose to forgive even those who've forced unthinkable pain upon us. He offers hope. And He answers Mack's troubling questions, but not how he expects.
Why?
Because of sin and mankind's choices, evil in the world happens. God does not cause it, but God allows tragedy to happen. God explains that He is always with us and can bring "incredible good out of unspeakable tragedies."
I highly recommend The Shack for anyone who's ever experienced pain and suffering and asked difficult questions about life. This movie offers love, forgiveness and hope. And who can't use these in the midst of life's trials and tragedies?
P.S. The original 2007 book, The Shack, is even better than the movie and tells the entire story.
The Shack: Where Tragedy Confronts Eternity by William Paul Young, Windblown Media, 2007.
The Shack Study Guide: Healing for Your Journey Through Loss, Trauma, and Pain by William Paul Young and Brad Robison, Windblown Media, 2016.
Image Source: The Shack [theshack.movie]