"What are your values? What's most important to you?" asks the art therapist. This is just one of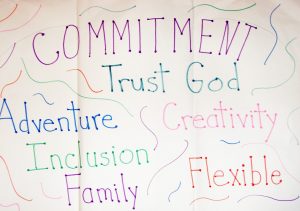 the many classes I attended in June 2011 looking for any glimmer of hope or diagnosis of my brain impairment.
I wonder – does it really matter? I can barely function. What difference will it make if I create my values on a poster? I'm on medical leave from the college.
I remind myself that I'm here to get help. I plan to return to my position as a college child development professor in a year. If there's a small chance this can help, I'm in.
Typically I enjoy the directed art projects, so I begin to think. Commitment is extremely important to me. This includes my commitment to God, my husband, my daughters & their spouses, my two grandchildren, my career, to teaching, my friends, to volunteering at the food bank, and helping others. Yes, commitment is the overarching principal that covers everything most important to me.
I finish the not-so-artistic project with six key values decorated with a few squiggly lines in colors I like. The 18" x 24" poster features: Trust God, Adventure, Inclusion, Family, Creativity, and Flexible. I hang the poster in my vacant and hollow office. I rarely see it these days, but somehow it seems important enough to keep visible. Some days I need to be reminded of my important values.