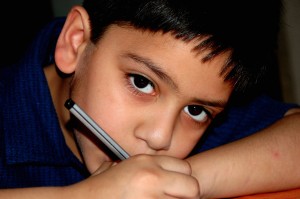 Children are already back to school. Here's some tips for parents to help their kids begin homework.
Habits Begin Early
Children typically start getting homework in kindergarten. Many teachers send home a packet for parents to complete with their children during the week and return on Friday. The homework time is about 10 minutes per day for four days.
Some Families Ignore Homework
Unfortunately, many kindergarten teachers I know report that a large number of families don't do the homework with their kindergarteners. If parents don't begin establishing an important homework routine during kindergarten, their children will most likely struggle academically as school doesn't seem to be a priority for these families.
Transition Time After School
Children need time to play and eat a snack when they get home from school or at their after-school programs. Just as parents need time to transition from work to home, children need this transition time as well. They've been in school all day and they need a break from academics. After an hour or so, they can do their homework.
Monitoring Homework
For first through third grades, parents will need to monitor their children's homework time. Restrain from doing the homework for your children. Have a designated area for homework. Many families use the kitchen table or counter. Keep school supplies nearby for convenience. This also helps children stay on task as they're not roaming around trying to find supplies. Its best to turn off the television and electronics so children can focus better. Active children need to do 15 minutes of homework and take a break. Then they can do another round of 15 minutes.
Transition Year
By fourth grade, hopefully the after school or evening homework routine is strong enough that children can start being accountable for initiating their own homework time. Fourth grade is a critical transition year for children. They go from cooperative learning in kindergarten through third grade; whereas, in fourth grade, the students do more individual work. Parents must make sure their children are making this transition successfully and continue to ensure that the child is doing his/her homework.
What works best for homework in your home?
Image: Kay Pat homework-1481153 [freeimages.com]