New: Classroom Environment Changes
Melissa Washington, a 26-year kindergarten and first grade teacher in San Juan Capistrano,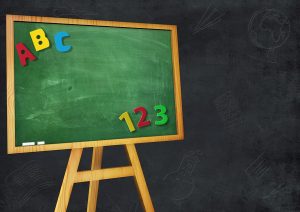 California, says, "Most kindergarten classes are kept separate in a more protected environment. They have a larger, self-contained classroom, including a bathroom, with access to a gated playground often shared with preschoolers." 1
Parent Action Tip: Towards the end of kindergarten, stop by a first-grade classroom and let your child see the room arrangement. Point out differences. For example, "Look, you'll have a desk and a chair. Your desk has storage room for your own items, like your pink hair brush and your favorite smelly markers."
New: Increased Academics
Washington says, "There's a big change academically. Kindergarten learning focuses on phonics, learning to identify all letters of the alphabet and their sounds and phonemic awareness. First grade reading focuses on fluency and comprehension." 1
Parent Action Tip: As parents become more aware of academic expectations, Washington suggests, "Instead of drilling your child on facts, focus on learning through play. Make up rhyming words. Rhyming lays a foundation for stronger readers. Keep books in the car and waterproof books in the bathtub."  1
Parent Action Tip: Washington adds, "Continue reading to your children. Make reading books so special that books become just as exciting as toys. Help them discover that they can learn anywhere, not just at school. Let them collect flowers or seeds and help choose apples at the market." 1
New: First Graders Learn to Work Together, Listen and Respond
Washington says, "Parents often come in worried about their own child."1 She tells parents, "It isn't just about your child. Children coming from kindergarten start to learn that 'The world does not revolve around them.' While kindergartens may have a hard time working with more than one other person, first graders learn team work to make a better school community and a better world."
Parent Action Tip: Blogger Padma of The Teacher's Digest says, "Children in first grade are at a critical stage wherein they are learning to hold longer conversations."2 She suggests having longer conversations with your children, using bigger words, and asking them for their opinions. This will encourage your children to speak up more in class and share their ideas and opinions.
New: More Children, Less Help
Many school districts attempt to place fewer children in kindergarten than in other grades. Kindergarten teachers often have more parent/adult volunteers than other grades. More children in the class and fewer volunteers means less one-on-one time and less nurturing from the teacher.
Parent Action Tip: Your children will need to adjust to less one-on-one assistance from an adult. When your children get stuck at home, encourage them to try and see if they can figure it out themselves. This builds self-confidence. At school, encourage them to try on their own first. Then suggest they ask a table partner for help or look at the directions on the dry erase board.
Parent Action Tip: Try to occasionally volunteer in your child's classroom. Some employers provide time off from work so parents can volunteer at school or chaperone field trips. Offer to help with a project at home such as labeling file folders or preparing supplies for an activity.
With a better understanding of what's "new" to first graders and trying some parent action tips, before you know it first grade will not feel so "new" to both you and your child.
That is until your child is a "new" second grader!
Sources:
Phone interview with Melissa Washington, 1st grade teacher in San Juan Capistrano, California on June 8, 2018.
5 Ways to Ease the Transition from Kindergarten to First Grade by Padma on July 18, 2014. http://theteachersdigest.com/5-ways-to-ease-the-transition-from-kindergarten-to-first-grade/
Image: board [pxfuel.com_en_free-photo-xzbqq]