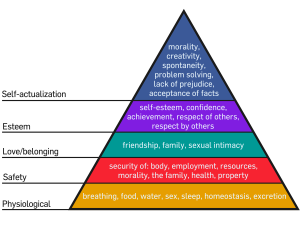 In the last blog post, we read that "Maslow before Bloom" is popular phrase in education circles. This means that our children's basic needs must be met before they are ready to Bloom by learning. We also examined four critical challenges of children and teens created by Covid-19. Today we'll look at the five hierarchal levels of Maslow and the dos and don'ts of meeting our children's and teen's needs so they can thrive in the post Covid-19 pandemic.
Physiological Needs
Needs that are biologically basic, such as the need for water, healthy food, air, shelter, sleep, clothing, and exercise.1 Free of toxic substances.2
Do try to meet basic needs first.
Do access 211 free referral resource line.
Do be educated about the signs of abuse and how to report.
Don't engage in activities that are unhealthy for the body and the mind.
Safety
The need to feel physically and emotionally safe from harm and genuine threats.
Do educate yourself about the facts about the rate of infection in your area.
Do help your children and teens learn coping strategies and stress management.
Do get trained to recognize signs of more serious mental health conditions, like depression, and when to refer to counselors.
Don't put pressure on yourself or others to achieve higher order needs.
Love and Belonging
The need to feel fully and unconditionally supported by someone else, and the need to provide such support and love to another. Friendship, intimacy & connecting with others.1
Do attempt to connect with others in your home daily through family activities.
Do attempt to connect with others outside of your home through virtual means such as FaceTime, group chats, and positive social media outlets.
Do provide opportunities for students to process their feelings to maintain their mental health.
Don't ignore the attempts for connection from healthy members of your family.
Don't assume that passive involvement in social media is satisfying social needs.
Esteem
The need to genuinely appreciate and respect oneself. Self-esteem, status, recognition, strength.3 Two types: internal esteem (such as self-satisfaction) and external esteem (public acclaim) needs.4
Do encourage family members and other peers in their current efforts at thriving in this post pandemic.
Do consider giving back to others who are struggling to meet basic needs.
Do find other ways to help students tap into their talents, improving and demonstrating their skills.
Do shoutouts to your children and teens for doing good work, for staying connected to their peers, or helping a peer, etc. Find something good to say about each child and say it publicly.
Don't meet your esteem needs through others' achievements, especially your children.
Self-Actualization
The need to become the best version of yourself that you can be. Pursuing one's maximum level of creativity.1
Do help your children and teens find confidence to persevere through difficulties.
Do be creative about how you can give back to and help others who are struggling.
Don't assume that all others are able to focus on their creativity at this time.
Back to the Basics
Parents can utilize the hierarchy lens to navigate barriers to their children's and teens learning and wellness after the pandemic. Ensuring your children first have access to physiological and safety needs will lead to opportunities to feel connected and loved by family and friends. Once those basic needs are established, you can work with your children and teens to develop coping skills. Now that the basics have been met, your children and teens are ready to learn and grow.6
Sources:
1.     Corona Viewed From Maslow's Hierarchy of Needs: Why a public health crisis supersedes all else. March 19, 2020 https://www.psychologytoday.com/us/blog/darwins-subterranean-world/202003/corona-viewed-maslow-s-hierarchy-needs
2.     Quinn, Amy MA, MS, LMFT, COVID-19 and Maslow's Hierarchy of Needs: How Is Our Motivation Changing? April 20, 2020. https://www.goodtherapy.org/blog/covid19-maslows-hierarchy-of-needs-how-is-our-motivation-changing-0420204
Education Self-Care Grid During Covid-10, Westminster Public Schools, Division of Social Emotional Learning. For more information contact Melisa Sandoval msandoval@westminsterpublicschools.org
Meeting the Needs of Children During Covid-19. https://www.mbfpreventioneducation.org/meeting-the-needs-of-children-during-covid-19/
Gross, Helen, ASCD Guest Blogger. Maslow's hierarchy of needs and the Covid-19 crisis. June 9, 2020. https://inservice.ascd.org/maslows-hierarchy-of-needs-and-the-covid-19-crisis/
Singh, Abraham Maslow's "Hierarchy of Needs" Becomes Even More Relevant in the Era of Covid-19. April 20, 2020. https://www.psychreg.org/hierarchy-of-needs-covid-19/
Image: Maslow's Hierarchy of Needs [commons.wikimedia.com]