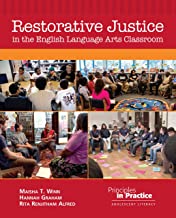 Always on the lookout for new restorative practices resource books I'm delighted with my latest find, Restorative Justice in the English Language Arts Classroom. This five-chapter, 126-page book by Maisha T. Winn, Hannah Graham, and Rita Renjitham Alfred integrates restorative justice principles throughout as it applies to English Language Arts (ELA) classrooms.
I thought the book would be filled with assignments based on restorative practices for teachers to use with students, but the book offers so much more. It offers the philosophy and principles behind the assignment concept ideas.
There's an extensive 23-page prologue on adolescent literacy that I found helpful yet disturbing. I'm disturbed "that 40 percent of high school seniors rarely write a paper of three or more pages, … the achievement gap between the reading and writing scores of white and students of color in 8th and 12th grades, and … the 4th grade slump in reading abilities" (p. xiii). I found the myths about adolescent literacy very insightful. The research-based recommendations for effective adolescent literacy instruction for teachers is spot on.
The book begins with "Teaching English in the Age of Mass Incarceration." This short chapter offers hope despite the criminalization of particular children. The authors provide a solid foundation of why ELA teachers should care and how they can engage students in literacy for purpose and belonging.
"Restorative Justice in Educative Spaces" provides background in restorative justice in education methodology, that impacts entire school systems including English classrooms. Teachers of any grade or content area will benefit from this comprehensive chapter on the foundations of restorative justice. Why punishment doesn't work is a strong section. The Relationship Matrix offers a different slant where people are viewed as objects and teachers have power over their students as opposed to people as subjects to be honored with unconditional acceptable and the power is shared "with" the students. Many of their excellent figures are offered through Living Justice Press as free resources. I'm making posters of each one for my trainings.
Being a researcher, my favorite chapter is "Using Our Curricular Powers: Pedagogy and Restoration in the ELA Classroom." How does an ELA teacher integrate restorative justice principles into pedagogical practice? "Part of creating and reshaping narratives in classrooms mean accepting responsibility for the power that we as educators hold in creating spaces where students in our care feel that their ideas, opinions and personhood are valued," (p. 49). Every chapter offers an "Into the Classroom" that features how one teacher applied the principles being taught. This chapters offers strong examples.
"Assessing Our Spaces and Ourselves" begins with the question, why do we send children to school? The short answer = opportunity. This chapter takes readers through a 3-step personal development self-audit. The remainder of the chapter examines learning contexts in the classroom.
The final chapter, "Transforming Writing Instruction: Where Do We Go from Here? suggests that restorative justice practices are a great place to begin. English education "…provides opportunity to engage in difficult dialogues
Four Appendixes support the chapters' content followed by a notes section, annotated bibliography, references and an index. This comprehensive book for ELA could easily be adapted by educators in other content areas. The book strongly explains restorative justice and what those principles can look like day-to-day in the classrooms.