Before I learned about this book, I met the author, Lynne M. Lang, founder and Executive Director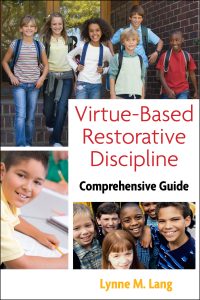 at Restoration Matters. She contacted me through LinkedIn. I'm always happy to connect with a restorative practices colleague. I do my restorative practices training for a large school district through Central Valley Youth for Christ while she does many trainings for Catholic schools. With common interests and values, we met on zoom.
The internationally recognized initiative Virtue-Based Restorative Discipline (VBRDTM) began in the Archdiocese of Saint Louis with a focus on cultivating virtues as a strategy for ending bullying behaviors. Those with a faith-based background, will appreciate their six key virtues: wisdom, justice, temperance (self-control), courage, humanity, and transcendence. For those unfamiliar with transcendence, as I was, "Transcendence is linked to the theological virtues of faith, hope, and love. It takes into account beauty, creativity, humor (joy), and the belief in something greater than us at work in the world." (p. 39)
The Foundation of Virtues
Each of the 14 chapters begins with a scripture quote. Lang devotes an entire chapter on laying a spiritual foundation of virtue and another chapter on becoming a student of virtue. The VBRDTM Guiding Principles listed on their website are:
"We will dedicate ourselves to living virtue.
We will support others in living virtue.
We will commit to constructive thoughts, words, and deeds.
When faced with challenges or conflict, we will find solutions that cultivate virtue for ourselves and for one another."
This call to virtue principles reminds me of working with educators. The past eight years I've done restorative practices trainings. I found that participants are eager to learn how they can use restorative practices with students. When I mention that restoring relationships is not just about restoring relationships student to student, but also about restoring relationships between a student and a staff or between a staff and another staff, some feathers get ruffled. Educators need to model restorative practices by treating everyone with respect and dignity and apologizing to students and/or staff for something they've done or said.
Restorative Practices Foundations
If you're unfamiliar with restorative practices, you'll be interested in the fifth chapter that provides the history of restorative practices. Long before schools began implementing restorative practices, indigenous tribes used restorative practices informally that spans many cultures and time periods.
Most books compare punitive or traditional discipline to restorative discipline. In chapter six, Lang compares traditional discipline to virtue-based restorative discipline. An interesting chart compares traditional discipline, restorative discipline, and VBRD.TM Another table features the key goals of restorative discipline and how these principles are adapted with VBRD.TM
Chapter seven offers a brief overview of a framework for a vision, while another short chapter provides information on steps to implementation. This is useful for those desiring to implement restorative practices within the school setting.
Putting It All Together
The next three chapters feature beginning with the adults at school, followed by bringing parents onboard, and finally, teaching our children. The author concludes with three short chapters on putting it all together, measuring success, and final thoughts. The book ends with eight appendices that are very helpful.
What I like most about Lang's book, is the insight she has on connecting our Christian beliefs and scripture to our practices. If you're looking for a book that bridges your personal beliefs to the implementation of restorative practices in schools, this book is for you.
About the Author
Ms. Lang is founder of a nonprofit, Restoration Matters, and facilitates restorative practices professional development, restorative staff retreats, restorative discipline for parents, virtue-based restorative discipline, and conflict restoration and transformation, amongst other areas. Additionally, she is a trainer for the International Institute for Restorative Practices (IIRP) and trains on Introduction to Restorative Practice & Facilitating Circles. She also provides restorative leadership training and conflict transformation in parishes and community organizations.
About the Book
Virtue-Based Restorative Discipline: Comprehensive Guide – A Catholic Response to Bullying by Lynne M. Lang, Our Sunday Visitor, 2013. Paperback, 190 pages. This book is available from https://www.restorationmatters.org/product-page/virtue-based-restorative-discipline Email at info@restorationmatters.com